Please email or contact Emile Petro for current Factory Promotions, Invcentives and upcoming events at 850-341-1105.
Emile and his team will assist you through the buying process from selection, complimentary sea trials, finance, on-site training, insurance, dockage, warranty and more.
Cutwater Boats introduces the all new C-24 for 2016! The all-new Cutwater 24 is powerful, beautiful, and innovative. The C-24 is powered by a standard 240 HP Volvo gasoline Duoprop sterndrive. Upgraded power options include a 300 HP Yamaha Outboard and a 220 HP Volvo diesel Duoprop sterndrive.
Manufacturer of the Year!. Fluid Motion, manufacturer of Ranger Tugs and Cutwater Boats was awarded Manufacturer of the Year in the Midsize Firms category at Seattle Business magazine's Washington Manufacturing Awards on April 28, 2016 at Seattle's Museum of Flight. Fluid Motion is a locally owned and operated family business that sells its Ranger Tugs and Cutwater Boats worldwide. The company operates six factories in Arlington, Monroe, Kent, and Auburn, Washington. All of the boats are designed, engineered, and built in-house by 200 skilled tradespeople, including some of the most experienced boatbuilders in the Northwest. In presenting the award, Seattle Business Magazine recognized the company for its bold vision -launching a new line of boats – Cutwater Boats – during the recession, and for its phenomenal growth – quadrupling the size of the business in six years and a 15 percent annual growth in its workforce."From opening a new factory with state-of-the-art equipment to investing in new software, we are committed to continuous innovation and delivering products known for quality, style and performance," said Jeff Messmer, vice president, Ranger Tugs and Cutwater Boats. "We're greatly honored to be recognized for our success within the recreational boating industry and our contribution to providing manufacturing jobs in Washington."Founded in 1958 in Kent, Washington, the company has been long known for the quality of its compact cruising boats, Ranger Tugs. In 2011, the company used its proven experience in hull and interior design to launch a new brand, Cutwater Boats, a line of fuel-efficient, feature-packed, trailerable boats targeted to families who want the cruising dream without having to mortgage their retirement nest egg. Since 2011 Fluid Motion has introduced at least one new model each year and has also opened one new factory every other year. In 2015 the company brought a completely new facility in Auburn online. This new facility is where it builds its latest new boat, the Cutwater 24.The Cutwater 24 (like all of Fluid Motion's boats) was designed, engineered, and built in-house.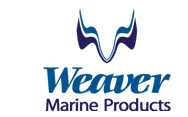 THE WEAVER DAVIT SYSTEM IS A PERFECT FIT FOR ALL
RANGER TUG & CUTWATER MODELS
Weaver Davit System - A perfect fit, easy install and hassle free!